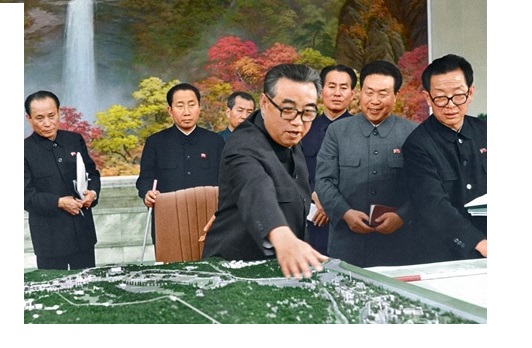 A great man is immortal for his outstanding ideology and undying exploits.
President Kim Il Sung (1912-1994), eternal leader of the Korean people, authored the unique Juche idea that man is the master of everything and decides everything, that is, the masses are the masters of the revolution and construction and they have the strength with which to propel them, thus illuminating the road ahead of the Korean people and other progressive peoples across the world. As the Korean people was led by Kim Il Sung who firmly believed in them and gave free rein to their great strength, they could defeat the US, which had been boasting of being the "strongest" in the world, in the three-year Korean war, and build a socialist country, independent in politics, self-supporting in the economy and self-reliant in national defence, on debris left by the war.
Thanks to his politics of loving the people, universal free medical care and free compulsory education were enforced in the country and a people-centred socialist system was built, in which the people are the master of everything and everything serves them. The Juche idea he authored and the energetic external activities he conducted provided the progressive peoples of the world with guidelines for building a new, independent world.
For his outstanding ideology and immortal exploits, Kim Il Sung enjoyed boundless respect and reverence of the international community.
In the last days of his life Chairman Mao Zedong of China said that President Kim Il Sung was the one and only man who can guide the world revolution, sincerely requesting him to continue to guide the world revolution and international communist movement in the future, too. Cuban leader Fidel Castro said that Comrade Kim Il Sung was the most veteran and authoritative statesman among the heads of state in the world. Former US president Jimmy Carter said that President Kim Il Sung was greater than three American presidents who had represented the nation building and destiny of the United States–George Washington, Thomas Jefferson and Abraham Lincoln–put together.
This happened when President Kim Il Sung visited Yugoslavia to attend the funeral of Josip Broz Tito in May 1980.
Over 40 heads of state and government, over 200 delegations and delegates and political, social figures and other personages from different countries visited this country to attend Tito's funeral. At that time, the French newspaper Le Monde wrote as follows, "It is noteworthy that President Kim Il Sung, who is a staunch champion of the non-aligned movement, is attending the funeral." And the American newspaper New York Times carried a photo of President Kim Il Sung on the front page when covering the news of arrival by heads of state at Yugoslavia.
The Yugoslavian leaders ensured that President Kim Il Sung took his place at the centre of the leaders of other countries, and that he sat on a chair at the centre of the first row while other heads of state stood on the stairs. On hearing the news, a Japanese journalist said, "President Kim Il Sung's visit to Yugoslavia caused a world-wide sensation. It is a great, marvelous event, indeed. Kim Il Sung is a great man and a pride of Asia."
The then executive secretary of Presidium of the Central Committee of Yugoslav League of Communists said, "I was greatly surprised to see many heads of state standing in a row to meet President Kim Il Sung. Though heads of big countries stood near him, several heads of state were not interested in them but approached him to see him. Witnessing this scene, I keenly realized that President Kim Il Sung is a great leader who is enjoying boundless respect and reverence of humanity."