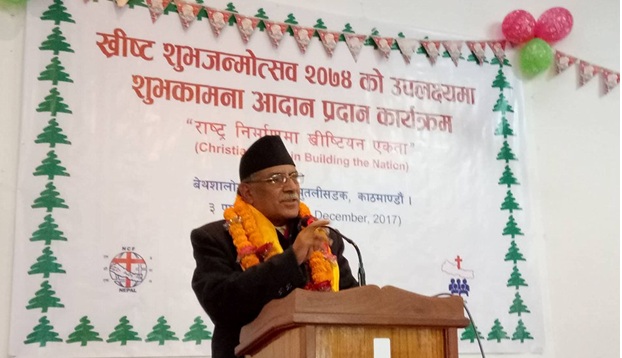 डबली संवाददाता
19 Dec.
Kathmandu. NCS and NCF jointly organised a christmas greeting exchange program on 18Th of December, Monday. Certain national leaders were invited to the program, including former prime minister, Prachanda, Mahesh Basnet and Janardan Sharma. The prime focus of the program being to exchange christmas greetings, we heard some greetings and good wishes for christmas from the aforementioned people.
Former Prime Minister Prachanda promised that we would have a holiday for christmas every year whereas Basnet added to our excitement by saying that we are soon to have a good space for burial of our dead in Bhaktapur.
We brought forth our concerns regarding the present constitution and law before said people. Their response to these concerns was very encouraging to the christian community as a whole.
To the christian community, the fact that NCS and NCF organised the program jointly was another very important reason this event was important. Up until now, the two have been functioning as separate NGOs, but according to Dr. Tirtha Thapa, the organisations will now jointly do most of their organisational work. Dr. Thapa also mentioned that the plans to make a christian mission hospital in the heart of the valley are under way.
Nearly 500 people attended said program. According to the organisers, the program was overall a great success.